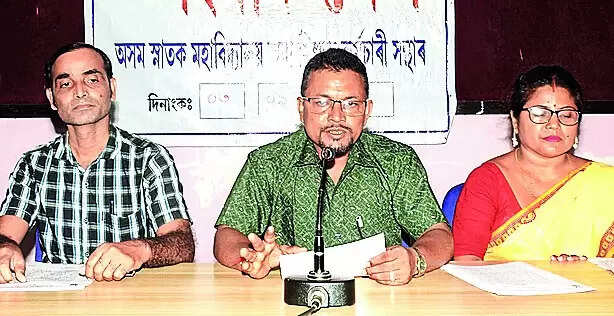 Guwahati: The non-teaching staff' affiliation of (*33*) Degree College has accused the state authorities of depriving the non-teaching workers of 33 schools, which had been provincialised in 2021, of authorities advantages.
The 297 staff of those 33 enterprise schools got appointment letters at a mega job truthful held on the Sarusajai stadium during which over 30,000 appointment letters had been distributed in a single day on February 5, 2021.
At a press meet right here on Sunday, Ankur Kumar Das, president of the affiliation, stated the federal government has betrayed them.
"During the appointment letter distribution drive, the then education minister, Himanta Biswa Sarma had announced that the non-teaching employees will also get the facilities that other government employees receive. However, even after two years, they have not yet received any such facilities," he alleged.
"The posts were provincialised under The Assam Education (Provincialisation of services of non-teaching staff of venture educational institutions) Act of 2018. We were promised gratuity, pension facilities, leave encashment and other government benefits at that time, but we have not received any such facilities yet," he added.
Das stated in the course of the occasion, Sarma had stated even when an worker retires the day after receiving the appointment letter, they may get a gratuity of Rs 10 lakh. However, he alleged that a lot of their colleagues have already handed away, however so far, their households haven't obtained a single penny from the federal government.
"In 2013 several posts of non-teaching employees were provincialised by the government. They are also getting government facilities. We are unable to comprehend why the employees provincialised in 2021 are being barred from getting such facilities," he added.
Das stated the non-teaching workers are an important a part of any instructional establishment. However, nobody has given them due respect so far.
An assistant librarian will get a meagre Rs 14, 000 per 30 days, whereas UDA and LDA staff get Rs 12,400 and Rs10,600 respectively and grade IV staff get Rs 8700. The affiliation has determined to go for a non-cooperation motion on September 5,7 and eight, to point out their significance within the clean functioning of an academic establishment.