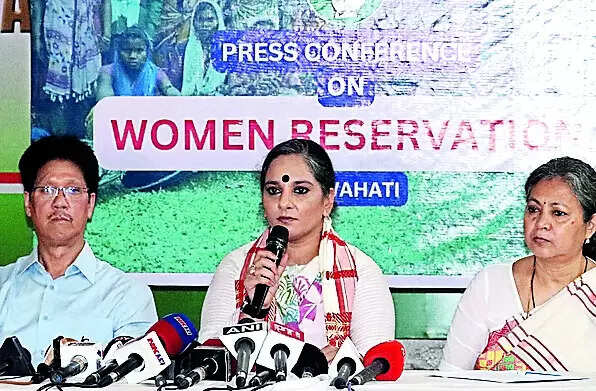 Guwahati: AICC spokesperson Mahima Singh educated weapons on the Narendra Modi authorities, accusing the ruling dispensation of delaying implementation of the ladies reservation citing delimitation and census.
Singh, at a information convention right here on Monday, stated if the BJP-led authorities is admittedly dedicated to work for girls, it ought to implement the regulation for 33% reservation for girls by 2024.
"The BJP must answer what is the logical link between census, delimitation and reservation? Did it take BJP nine years to hastily bring out this rather ill-drafted bill for the name change, as everything else remains the same?" Singh requested.
She quipped that it might have properly been named Nari Shakti Krandan Adhiniyam for the "ruthless condition" it put that it might solely be carried out upon the completion of census and delimitation.
She stated the Prime Minister Narendra Modi forgot to acknowledge that Bharat is the one G20 member to haven't performed a census in over a decade. "Let alone fulfilling their constitutional duty to conduct the census, the BJP is a wilful defaulter for it holds back the data of the socio economic caste census held by the UPA government," she stated.
Singh stated BJP stalwarts had been against the girls reservation invoice earlier and it might be a delaying tactic to usher in delimitation and census as riders within the course of. "This is only expected of a party whose very foundation is male supremacy. One might hardly wonder why the Rashtriya Swayamsevak Sangh that banned women ever since its inception, and its offshoot BJP would ever talk of securing political space for women, for it goes against their core idea of male supremacy, the very reason why in 1989, the likes of Atal Bihari Vajpayee and Lal Krishna Advani opposed the idea of 33% reservation for women in local bodies — a bill envisioned by Rajiv Gandhi that was passed in the Lok Sabha but fell short of seven votes in the Rajya Sabha," she alleged.
Singh stated simply months forward of subsequent 12 months's common election, "a nervous BJP" referred to as a particular session of Parliament primarily confronted with imminent challenges by INDIA, with the intention to handle headlines.
"The announcement for this special session was made on August 30 while the INDIA bloc was meeting in Mumbai. A desperate Modi-led BJP government yet again resorted to appeasement gambits, hollow though as they tabled the women reservation bill with the 'signature BJP' masquerade — Naari Shakti Vandan Adhiniyam," she stated.