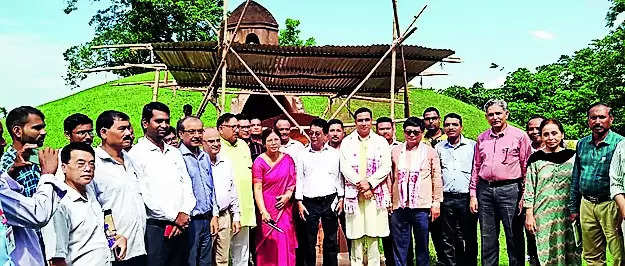 Guwahati: The Unesco International Council on Monuments and Sites (ICOMOS) consultants' staff will go to Charaideo —a proposed world heritage website — on October 7, the state authorities confirmed on Saturday.
The "maidams" or burial grounds of Ahom royals in higher Assam's Charaideo have been India's sole nomination for recognition as a Unesco World Heritage Site this 12 months. It has already met the technical necessities, following which Unesco is sending the staff for floor inspection. The "maidams" are illustration of medieval (Thirteenth-Nineteenth century CE) mound-burial custom of the Tai Ahoms in Assam, whose rule lasted nearly 600 years.
If chosen, the 90 royal burials at Charaideo would be the solely cultural heritage website within the northeast to get the World Heritage tag from Unesco.
The group of 4 state ministers, well being minister Keshab Mahanta, indigenous tribal religion & tradition (archaeology) minister Nandita Garlosa, income minister Jogen Mahan and tourism minister Jayanta Malla Baruah, together with state chief secretary Paban Kumar Barthakur had an important dialogue with senior officers of the Archaeological Survey of India (ASI) and state archaeology directorate on the website. Leader of opposition Debabrata Saikia was additionally current on the assembly.
"The government of India under the leadership of Hon'ble PM @narendramodi Ji, has nominated the Charideo Maidam for inclusion in this year's #UNESCOWorldHeritage List, making it the sole Indian site under consideration. Today, as per the direction of Hon'ble CM Dr. @himantabiswa, visited the proposed site and inspected the ongoing preservation efforts. Following that, I participated in a review meeting to discuss various aspects related to their preservation and recognition," Baruah wrote on X.