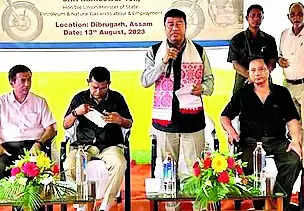 Dibrugarh: Ahead of the Independence Day, a high-mast tricolour was hoisted by Union minister of state for petroleum, pure gasoline, labour and employment Rameswar Teli on the Chowkidinghee playground in Dibrugarh on Sunday, studies Rajib Dutta.
The Union minister additionally handed over 11 bikes to Dibrugarh Police. The bikes, price Rs 1.80 lakh every, have been handed over to the district's 11 police stations — Dibrugarh, Barbaruah, Duliajan, Khowang, Naharkatia, Tingkhong, Joypur, Namrup, Moran, Tengakhat and Lahowal.
The occasion was attended by Dibrugarh MLA Prasanta Phukan, Assam Tourism Development (*11*) chairman Rituparna Baruah, Dibrugarh municipal board chairman Saikat Patra, district improvement commissioner Jitu Das, vice chairperson of Assam Gas Company Limited Indra Gogoi, Brahmaputra Cracker and Polymer Limited common supervisor Alak Baruah, chairman, Dibrugarh improvement authority Ashim Hazarika, Dibrugarh district BJP president Jagadish Rajkonwar and representatives of Gas Authority India Limited amongst others.
The minister later inaugurated one other high-mast tricolour on the Mahatma Gandhi Park in Khanikar and Moran Circle workplace.